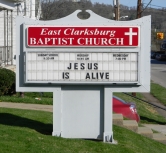 Welcome to East Clarksburg Baptist Church!
Whether you're seeking Jesus Christ or attend our worship services regularly, there's something for you here. We hope your visit to our website will be insightful, informative and inspirational.
If you are looking for a church to call home, we would be honored to have you consider us and attend one of our worship services.